Event Of TA 101
What is Transactional Analysis?
Transactional Analysis (TA) is a framework to discover our psychological personality structure, how we function, our communication & relationship patterns, internal motivations, formation of attitude and the goal of having an authentic capacity to adapt to life circumstances.
TA is a social psychology developed by Eric Berne, MD (d.1970). Though TA was initially developed as an approach to psychotherapy, over the past 50 years of its growth, it has found wider application in all fields concerning human growth and change, namely psychotherapy, education, organisations and counselling. Its simple and profound language makes it accessible to people from all walks of life. Its philosophy that determines okay-ness in people, capacity to think and ability to choose stems from the possibility of change transactional analysis concepts emphasise
Register Now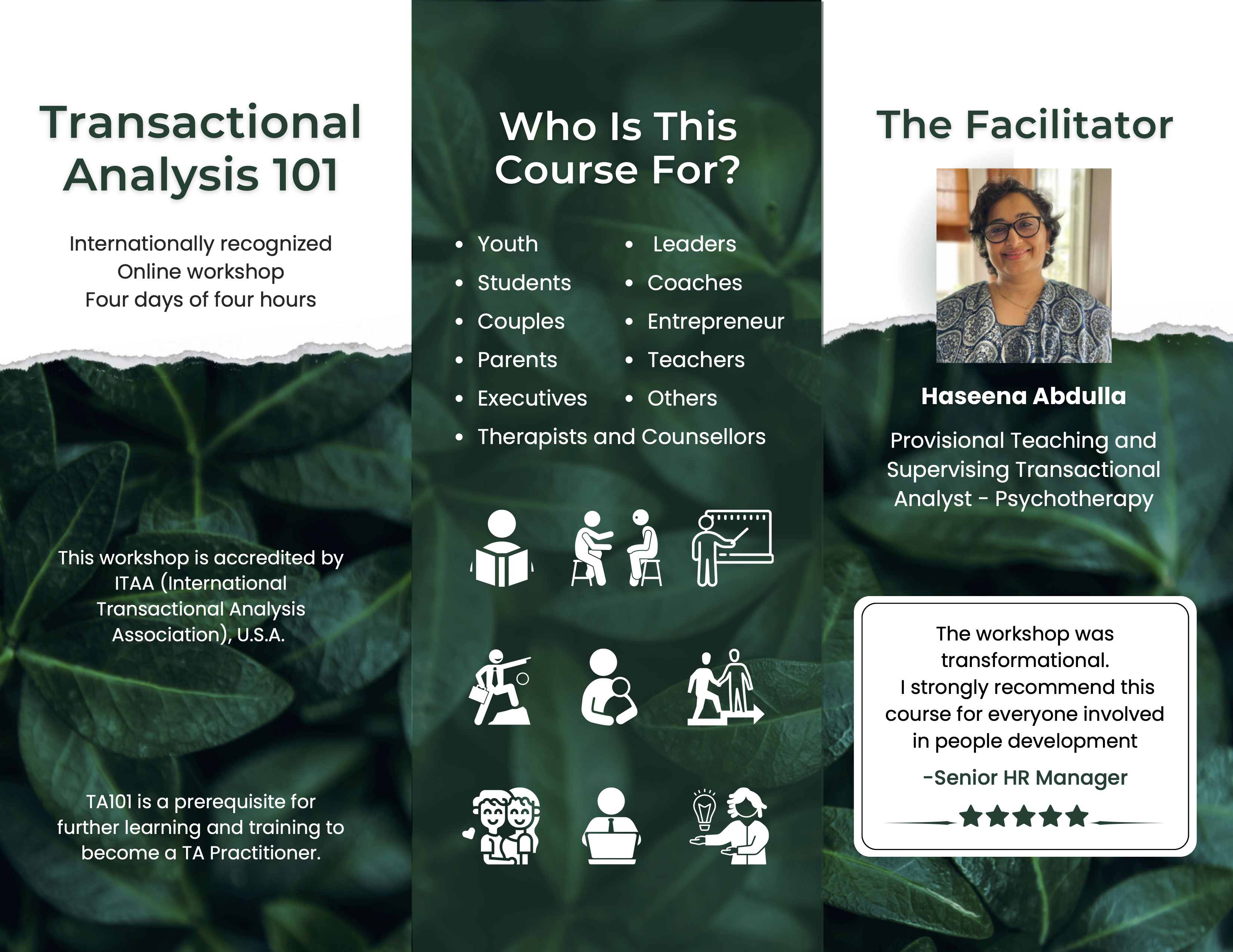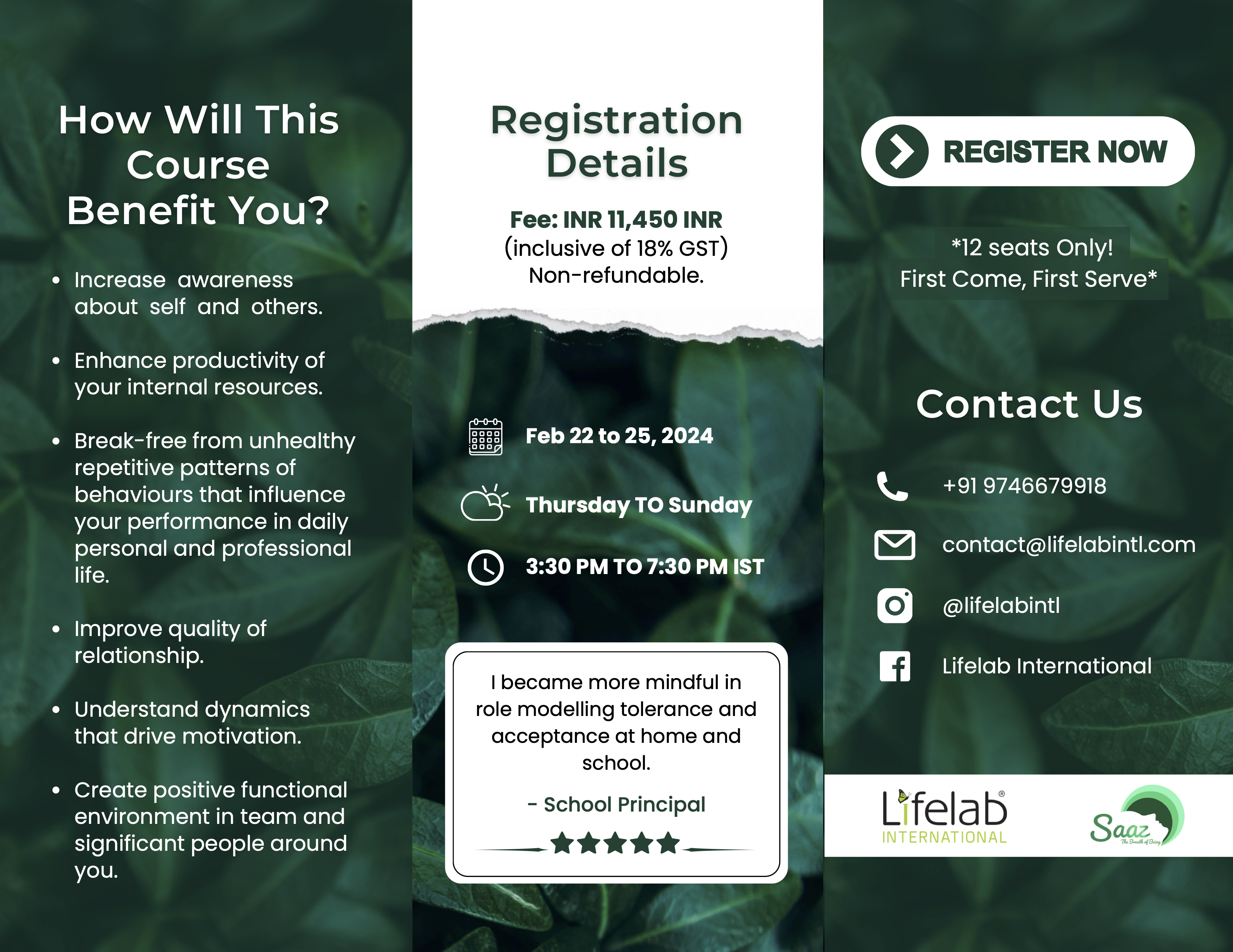 The course contains concepts like
Philosophy and history of TA
Ego states
Transactions
Stroke
Life Positions
Script
Games
Time structure
Contracting
How do these concepts benefit participants / organizations?
Theory of child development: The concept of life script helps to understand the developmental patterns originating from childhood with parental influences and helps us discover the strength and limitations of our growth and change.
The concept of psychological games which is the door to intimacy, helps us discover an unhealthy repetitive pattern of behaviors that impact our everyday life circumstances using concepts from transactions.
The concept of existential life positions helps us understand our attitude towards the self, others and the environment we live. Also enables participants to understand how their attitudes are formed from childhood, and how they behave in stressful situations.
Our motivation and meaning for life evolve from the psychological hunger we have imbibed during the course of our growing-up circumstances. We discover all these through life examples, exercises etc.
The theory of communication helps participants discover the pattern of their communication using the ego state model, which helps to analyse the infinite options in having complementary and cross-transactions
The theory of psychological structure helps explain the content we have internalised from our environment and how these contents influence our corresponding behaviour.
About facilitator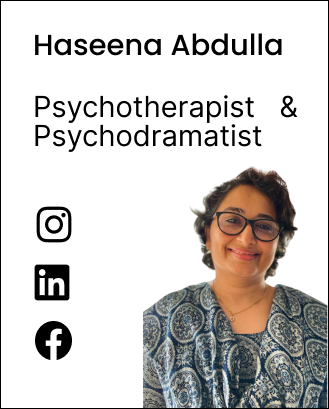 Haseena Abdulla is a licensed practitioner of TA by ITAA (International Transactional Analysis Association) with her credential as PTSTA (P) Provisional Teaching and Supervising Transactional Analyst. She is the founder of SAAZ where her psychotherapy practice is focused. She runs supervision groups to develop Transactional Analysis practitioners
She is the Director for Efficacy Development at Lifelab International. She has been supporting clients with her competency using Transactional Analysis and Psychodrama. She is also a Certified Psychodrama Director with Jochen Becker Esbel, Germany. She is a Post Graduate in Sociology and Psychology. She integrates Gestalt Therapy, NLP, Hypnotherapy and Movement Therapy in her work
She is also a passionate writer who has published the psychological fiction 'I Wonder, aspirations for Life and love' to her credit and has published articles for Transactional Analysis Journal and Springer Publications on the topics: The impact of Indian Cultural-Parent on TA training, Divergence and convergence between TA and psychodrama. She has participated in a study conducted by Women Christian College Chennai on the Impact of TA 101 Impact of Transactional Analysis on Emotional Intelligence and the Influence of Certain Demographic Variables. She has also been part of research conducted by Lifelab International on the impact of TA 101 for classroom education based on an experimental model of her workshop for teachers.
About the organizations
ITAA (www.itaaworld.org)
The International Transactional Analysis Association is a non-profit, member-driven educational organization founded by Eric Berne, MD. ITAA's purpose is to help advance the theory, methods and principles of transactional analysis
Lifelab (www.lifelabintl.com)
Lifelab International is a social enterprise for developing professional human capital for meaningful interventions in mental health, education and community transformation. Lifelab facilitates collaborative platforms for individuals, institutions, organizations, NGOs, corporate entities and communities. The umbrella team extends its expertise and synergy to facilitate alternatives in education, educational governance, meaningful interventions in community development and harmony in family.